Starved Dogs Thrown From Van Are Learning To Trust Humans Again
Two dogs in Spain are getting international attention for their resilient spirits.
Raiz and Tierra are two young dogs now in the care of Protectora La Bienvenida, an animal rescue group in Ciudad Real.
Bystanders saw two men in a van throw the two dogs out of the vehicle — which had a covered license plate — in the parking lot of Universidad de Castilla-La Mancha's Ciudad Real campus, Ana Robles Pérez, a spokeswoman for the group, told The Huffington Post in an email. That happened on June 11, and the police have been investigating since then to try to find out the identity of the drivers.
The dogs, which the group says are a type of hunting dog, were severely dehydrated and malnourished, with scabies and various infections.
Advertisement
"They were more dead than alive," Pérez said in an email. Extremely graphic photos of the dogs upon intake can be seen in a Facebook album by the group.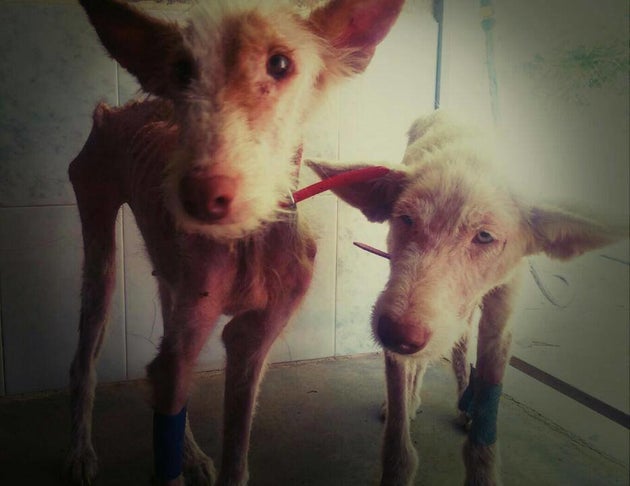 The two dogs a few days after their rescue.
But while the dogs are understandably very shy, they're already beginning to trust humans again.
"The first days they preferred to stay alone, without people," Pérez said. "Now, when they see their [caregiver], they move their tails!" Even so, it will likely be a long recovery, physically and mentally, she said. Eventually, the group hopes to adopt out the pair together to a new home in Spain.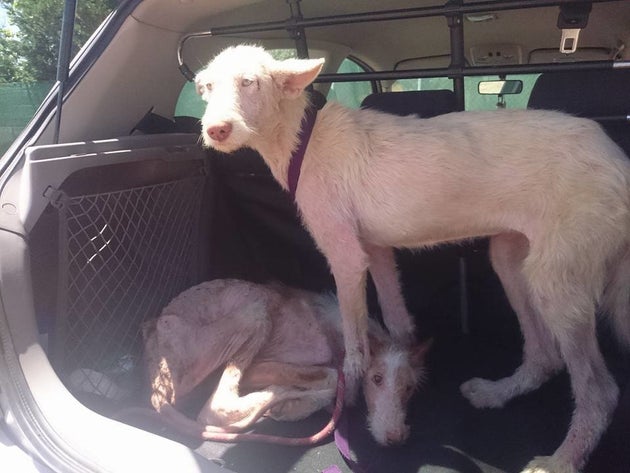 The two dogs' fur is growing back as they recover.
While Raiz and Tierra have been getting the most media attention, Pérez noted they now have a third dog, Bosque, who they believe came from the same place.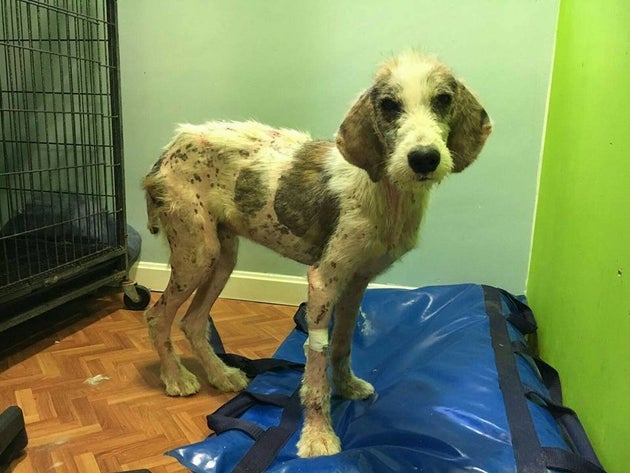 The animal rescue group believes that Bosque, a third dog, came from the same awful situation as Raiz and Tierra.
"We're sure that he's another victim, too, of this case," Pérez said. "He was abandoned near the University too and in the same situation." Raiz and Tierra also appeared to recognize Bosque.
Based on this video of the three dogs together, they'll never have to be afraid again.
Advertisement